Back
Elevating the Travel Industry: Seamlessly Booking Hotels with Seffcon's Intuitive Mobile App Development
In today's fast-paced world, where wanderlust and exploration are on the rise, the travel industry is constantly evolving to cater to the needs of modern travelers. The advent of technology has reshaped the way people plan their vacations, making mobile applications an indispensable tool for travelers worldwide. However, the travel industry faces its fair share of challenges, including providing an exceptional user experience and simplifying the booking process. Seffcon, a pioneering IT services provider, has emerged as a trusted development partner in this sector, through its mobile app development services.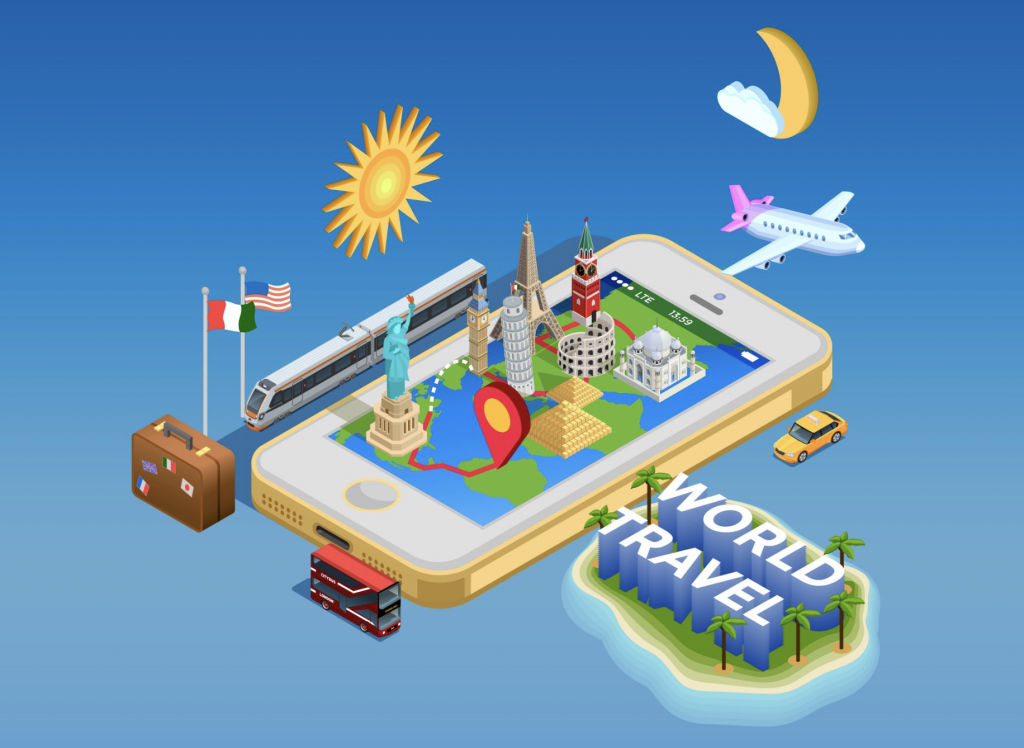 Image by macrovector on Freepik
Understanding Traveler Pain Points
For avid travelers, the process of booking a hotel room should be as exciting as the journey itself. However, this hasn't always been the case. Navigating through an array of options, specifying accommodation requirements, filtering search results, and ensuring a smooth booking process has often been a daunting task. This user experience gap has been a significant pain point in the travel industry, leading to missed opportunities for businesses and frustrated travelers.
Seffcon's Solution: Empowering the Travel Industry with Intuitive Mobile Apps
Seffcon's foray into the travel industry as a mobile app developer has been nothing short of a transformative journey. Leveraging their expertise in frontend mobile app development, Seffcon has bridged the gap between travelers' expectations and the booking process. Specializing in creating top-notch iOS and Android apps, Seffcon has turned hotel booking into a seamless and enjoyable experience.
Crafting User-Centric Experiences
Seffcon has a deep understanding of user behavior and preferences. The intuitive iOS and Android apps we design and develop ensure that travelers can effortlessly navigate through a myriad of hotel options. This translates to users being able to specify room requirements, select the number of adults and children, set check-in and check-out dates, and even apply filters to narrow down their search results. The frustration of sifting through countless options has now given way to a streamlined process that puts the user in control.
Effortless Booking Process
Seffcon's commitment to user-centric design is evident in their crafting of a seamless booking process. With just a few taps, users can select their preferred hotel, choose from various room types, input their details, proceed to checkout, and securely complete their payment. This frictionless process eliminates the stress and uncertainty that often accompanies booking hotel rooms. What's more, the app allows users to view their booking details, putting all the essential information at their fingertips.
Personalization at its Best
Understanding that no two travelers are the same, our mobile app development goes above and beyond to provide a personalized experience. Whether a traveler is seeking a cozy room for a romantic getaway or a spacious suite for a family vacation, the app's comprehensive options cater to a diverse range of preferences. This personal touch resonates with travelers, making them feel valued and understood.
Performance that Shines
In a digital age where speed matters, Seffcon's mobile apps stand out with their exceptional performance. Slow-loading apps and clunky interfaces can drive users away, but Seffcon's expertise ensures that their apps are not only aesthetically pleasing but also lightning-fast. This commitment to performance enhances user satisfaction and encourages repeat usage.
Tackling Booking Woes with Seffcon
The travel industry has always been about creating unforgettable experiences. Seffcon's approach to mobile app development addresses the travel industry's pain points head-on. By seamlessly connecting travelers with their dream accommodations and simplifying the booking process, it is redefining how people plan their journeys.
In a world where convenience is king, the intuitive mobile apps developed by Seffcon offer a breath of fresh air to the travel industry. With a user-first mindset, we have succeeded in creating apps that make hotel booking an enjoyable endeavor. As travelers embark on their adventures, Seffcon's apps serve as the compass, guiding them toward hassle-free and memorable stays.
Conclusion
Seffcon's journey into the travel industry as a mobile app developer has been a transformative one. Our commitment to providing an intuitive, personalized, and lightning-fast experience has turned the once-daunting task of booking accommodations into a seamless and enjoyable process. As the travel industry continues to evolve, Seffcon poised to redefine the travel landscape with its expertise in crafting intuitive mobile applications.
Experience the journey with us
Summarise your requirements and our business analyst would get back to you at the soonest.
Get in touch